The Barn: Our Gathering Place for Crop Work & Get-Togethers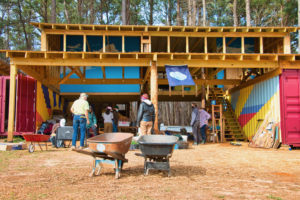 With a shipping container storage unit on either side, a small dedicated group of people–many over 60! — built the barn by hand. Upstairs on the left is a space for farm workers and on the right is a kitchen. There's even a bath house for showers! This barn is where a lot of the vegetable crop is processed. Under the direction of Doug, our extraordinary community farmer, members and volunteers harvest vegetables, save seeds, transplant veggie plants, and pack up what's grown from the farm for Doug's Community Supported Agriculture (CSA) enterprise, Full Table CSA. This is also our gathering place for all sorts of get-togethers from workshops to parties. Community members painted the barn and artist Margret Muller added sunrise-and-sunset murals on the inside walls. Solar panels on the roof provide electric power to the barn.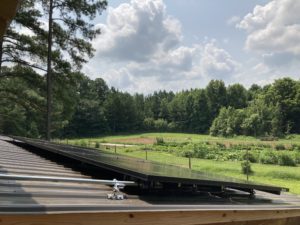 The Farm: Produce Aplenty
Ongoing…anyone can join us in these endeavors!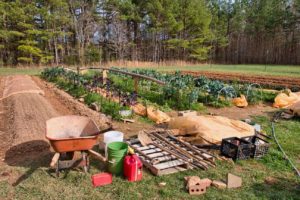 On the left there's an area recently tilled and ready for new plantings. Six months
later, that area is planted with the beginnings of our fruit orchard trees – apple, pear, fig and persimmon – as well as raspberries. At the front, near the wheelbarrow, the bee crew has planted pollinator flowers. This year the center plot was renovated and now is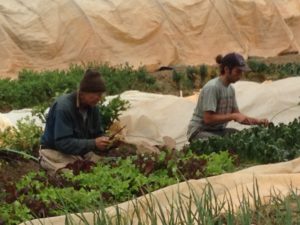 planted out in potatoes, the three sisters (corn, squash, and pole beans), and peanuts. Doug Jones runs a 4-season Community Supported Agriculture (CSA) enterprise, Full Table CSA, offering an array of fresh produce all year long. The CSA delivers veggies to over 60 people on a weekly basis and seeks to grow its membership. Visit FullTableCSA.com for more details or to join. We also love having folks come out and volunteer on the farm.
The Biochar Project

Biochar is a profoundly simple tool to combat climate change…This 2,000 year-old practice converts agricultural waste into a soil enhancer that can hold carbon, boost food security, and increase soil biodiversity, and discourage deforestation. —International Biochar Initiative
Randy has set up a biochar kiln near the barn. Biochar is made by burning plant materials, e.g. branches, by a slow process, with limited oxygen, and turning them into a charcoal. It's both a valuable soil amendment for the farm and a simple yet powerful tool for carbon sequestration. Click here to see a hot video of biochar flames!
The Native Bees project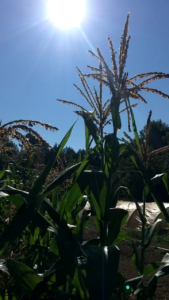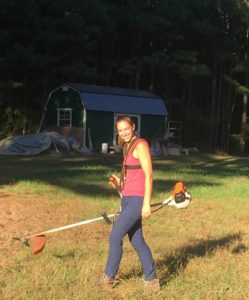 Click here to see a lively video of bees supping on the corn tassels

On summer days you can see multitudes of bees busy in the garden as they go from plant to plant gathering nectar to make their honey, carrying pollen on their bodies from flower to flower. A crew of people from the Land Stewardship Circle decided to help the bees expand their territory by planting the sorts of flowers they most like.
Planting large areas of flowers means preparing a bed ahead of time……after the bee crew cleared the land (hence Michelle above with her weed whacker!), a large plastic tarp was set down to prevent new weed growth, prior to seeding. We are in the midst of seeding many places along the trails and pond as well as near the barn – growing flowers in as many places as possible!
Forest maintenance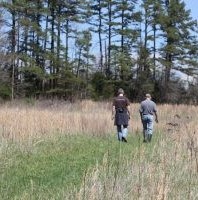 We inherited a Forest Stewardship Plan, funded by the Eno River Association, from the previous landowner. Over the past several years, we've sought input into implementation steps from two forestry consultants, including one specializing in horse logging. We are currently pursuing, on our own, a very deliberate thinning of a few forest stands with the most immediate needs for attention. We've coined this initiative the "Wood Wide Web" project.
Completed Projects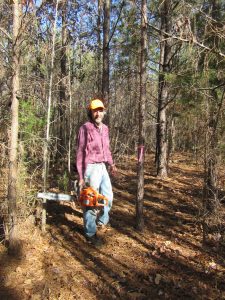 Trails: One of our early projects on the land was to build a system of loop trails to take walkers deep into the woods and to the far edges of the property. Work started with a group of Anthony's students in the Spring of 2014 and many members have continued this work in the time since. In Spring of 2016 we completed passable trails all around the main chunk of the property. In the fall of 2017 we forged into the southeast wetland and forest area. More than two miles of trails now pass through widely varied terrain. Current work consists of maintenance and upgrades.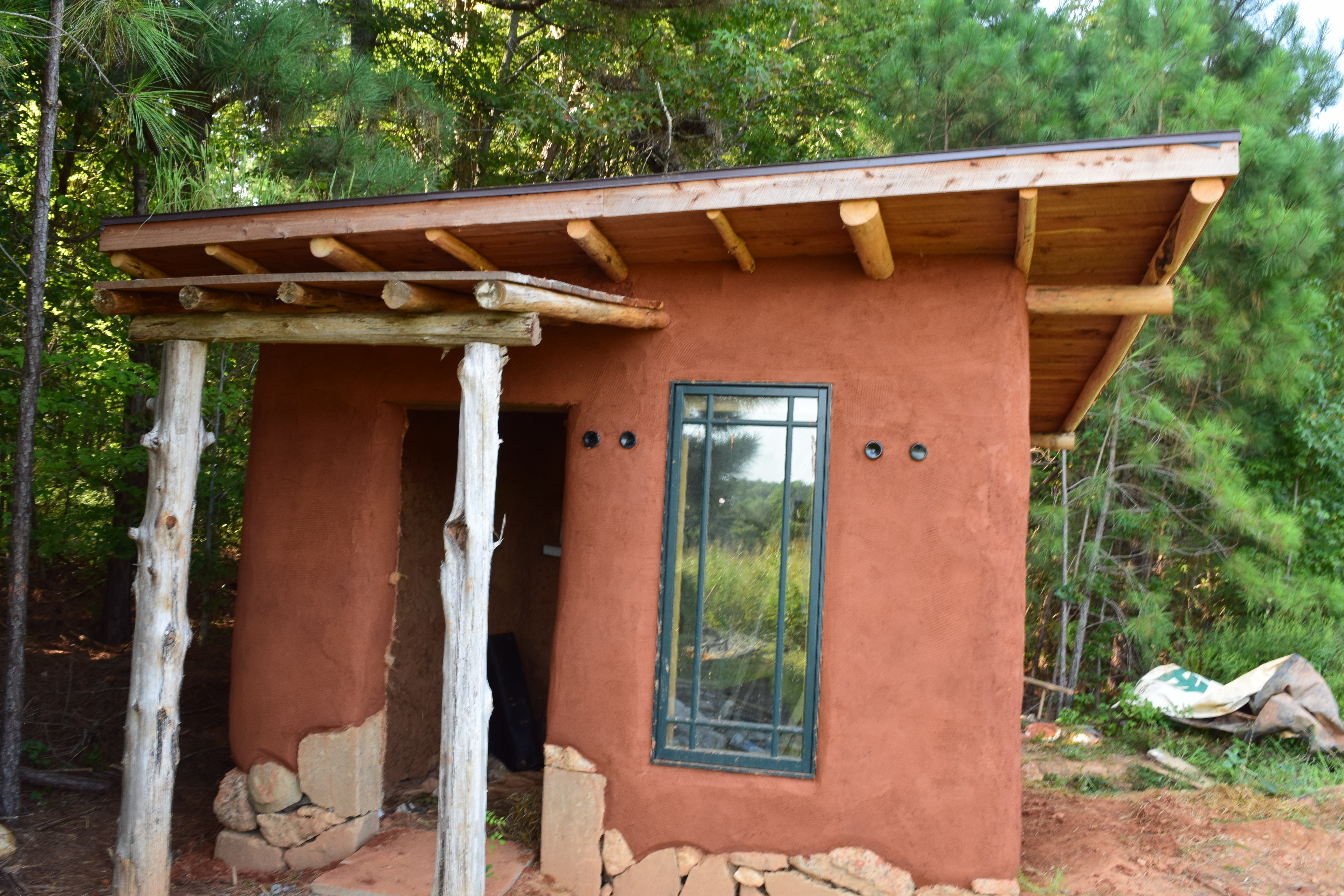 Cob Haven is a cozy retreat made by hand with cob (clay, sand, straw, and wood.) Windows, stained glass, and a rocket stove add beauty, whimsy, and warmth. This is the perfect place to surrender to after a day of hard work! See the link below for the full story of how people at CG created this oasis. Story details at: the Cob Haven Blog posts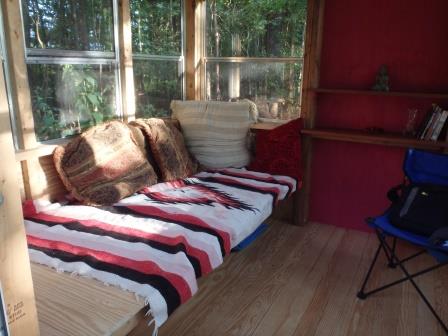 Hearts Ease is nestled in the forest. The fire pit in front has been used for everything from spiritual ceremonies, to small group get togethers. This is a perfect retreat for folks wanting a bit more seclusion.
Use of these retreats requires permission.
The Pump House is the source of our crop irrigation system. After digging our well, and installing an electrical system powered by solar energy, we needed housing to protect our irrigation system. Anthony drew up designs, and it was hand-built with the help of Greg Allen (Mud Dauber School) and many volunteers. Slipstraw installation was finished just in time for Hurricane Florence!