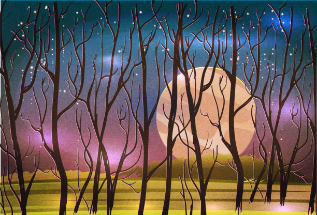 It's as if we're always preparing
for something.  The endless roll of the earth
ripening us.
            From Late August, by Mary Chivers
We are entering October—a time of harvest which brings the last year's cycle to a close. Daylight is waning and the forces of Nature draw downward, fold inward, as a prelude to Winter's dreamtime. The Harvest Moon marks a natural new year, a time to celebrate and give thanks for all the bounty and sustenance which the Earth has bestowed upon us for yet another spin around the Sun.

At Common Ground, our motivation to become an agrarian ecovillage is strong. This Almanac is full of news and many ways to engage with each other and the land. We hope you'll come to the Fall Celebration and Education Weekend on October 21-22, which will offer a gateway into what life together on this land can be like from learning and working to playing and feasting.

We're making it up as we go along, working with the currents and flows of What Is as we strive towards What Can Be. Endeavoring to find the sweet spot that strikes a balance among the many factors in play that will illumine, like today's Harvest Supermoon, a beautiful and synergistic pathway forward.

See you at Common Ground.