"…the care of the earth is our most ancient and most worthy and, after all, our most pleasing responsibility. To cherish what remains of it, and to foster its renewal, is our only legitimate hope."

― Wendell Berry, The Art of the Commonplace: The Agrarian Essays
The Story of Common Ground Ecovillage

In 2008, a small group of pioneers started to meet to create a farm-based community in the Triangle area of NC. They came together week after week to dig deep, dream high and lay foundational tenets for living sustainably and in harmony with each other and the land.
Three years later, their work attracted the attention of a visionary landowner who o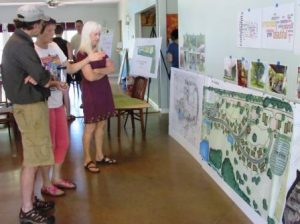 ffered to sell 112 acres of fields, waterways, and woodlands to the group when the time was right. Since then, Common Ground Ecovillage and Farm has been attracting new, skilled and dedicated people from diverse backgrounds and stages in life to bring that dream to this piece of ground.
Common Ground Ecovillage is our contribution to reversing ecological degradation across environmental, social, and economic dimensions. We know that we are a part of a much larger network of people who are dedicated to similar values and visions. We're already sharing so much of what we have learned with all who ask.
Step-by-step, we're starting to make this integrated village and farm happen. It's taking great dedication, learning, creativity, hard work, and resources. In the process, we're coming to love this land and care deeply about one other. A more beautiful world, which our hearts know is possible, is taking shape within and around us.
We're not sure how this will turn out as some hurdles remain high. We're staying the course, respecting our guiding principles and working it all out. We continue to move forward little by little until one day we will find ourselves living and working at Common Ground Ecovillage.
If this inspires you, please read on and contact us. We look forward to meeting all who share this vision and wish to participate in its creation.