It's both daunting and thrilling to be designing an ecovillage! Not only will this be the place where we spend much of our time and interact in so many different ways as a community — it will also be the physical embodiment of our values. We have the challenge and the opportunity to embody our ideal of a convivial community and ecologically regenerative way of life in wood and clay and glass, at the same time making it affordable and widely accessible… and to make it wonderfully inviting… and just plain wonderful!
This and the other pages in this "Village Design" section of the Common Ground Ecovillage website offer a detailed introduction to our design process and results so far. Your questions and input are heartily welcome: please email Anthony at weston@elon.edu.
ECO-village
The ECO- part of "eco-village" means: tuned to ecological impacts and imperatives and in conversation with the larger land. Some key aspects are:
Low impact. We need to consider our materials and building methods, the energy and other maintenance demands of the buildings over their lifespans, and their reuse or biodegradability after that. For example, early on we decided that we will not build with any kind of extruded polystyrene foam (Styrofoam), even though it is quite inexpensive and durable compared to the options, because it is all too durable – you can't ever get rid of it. We're looking at "natural" forms of insulation instead, though they may be more costly and pose more maintenance challenges.
Sustainability is a more ambitious goal: ways of building and living that do not drain or deplete the land or soil or other resources and therefore can be continued indefinitely. For us, this means things like planning for extensive use of passive and active (photovoltaic) solar energy, and rainwater collection from our roofs. We're also experimenting and promote member involvement with earth-building methods. There's nothing more sustainable and lower-impact than building with clay dug from the site of the building itself!
Regenerativity means actively repairing damaged and degraded soil, land, waters, and ecologies. For example, we'll more than compensate new impervious surfaces (roofs, pavement) with kitchen gardens and rain gardens right in the village. Also, the village is sited so as to leave the bulk of the land lightly burdened, shading off quickly into gardens, then farm, then lightly-managed woods and untouched marshes, allowing forest and animals to recover from decades of over-farming and clear-cutting. (For more, see Village Layout.) Bees, chickens, and (farther out) wilder animals will be invited back into a flourishing and diverse ecology. (For more on regenerative thinking, go to this recent blogpost.)
Natural materials and forms. The shapes of our buildings will be proportional to each other and link into a connected flow. Finishes will incorporate local materials and ornaments will include natural design elements. Layout will acknowledge and mirror the flow of the land. We'll look for creative and unique decorative elements like stained glass, tile, mosaics, curved walkways, spiral patterns, window/door trim that follows tree shapes, gateways/fences made from sinewy branches, and decorative boulders.
Eco-VILLAGE
Planning for the -VILLAGE requires careful and skillful attention to the social interaction patterns it creates and supports, both within the buildings, between them, and between the village and the land.
Design for cooperation. Normally a residential development would be a collection of private and relatively self-contained homes that happen to co-occupy a site. Largish homes, turned away from each other, likely on large lots, with little attention to the spaces between or to the common life. But we aim first and foremost for a true community. We plan to build in a way that provides for privacy and intimacy when we want and need it, but just as importantly is designed for interaction, cooperation, and mutual reliance at many other times. Many of us eagerly anticipate living cooperatively with people within a dwelling unit as well as within our larger community.
Design for conviviality. Artful design of all public spaces will nurture and prompt a wide range of joyful and rewarding social interactions. The Common House will not only be functional but commodious and inviting. Outdoors, or halfway, will be porches (screened and open), patios, courtyards, outdoor kitchen(s), play-spaces, gardens, picnic areas, and much else. Careful and inventive design of the "in between" spaces can turn them from dead spaces between private homes into centers of attraction and sometimes surprises (art, chickens, children…).
Design for accessibility. Common Ground Ecovillage will be physically accessible and welcoming to as many potentially differently-abled residents as possible, and will provide for residents throughout the lifespan (noting that children have distinctive needs and capacities too). We are building multi-use adaptability into flexible spaces and planning to build on the strengths of interdependence (v. independence), readily enabling community assistance as needed with cleaning, meals, and laundry. For more, see our General Approach to Accessibility Questions.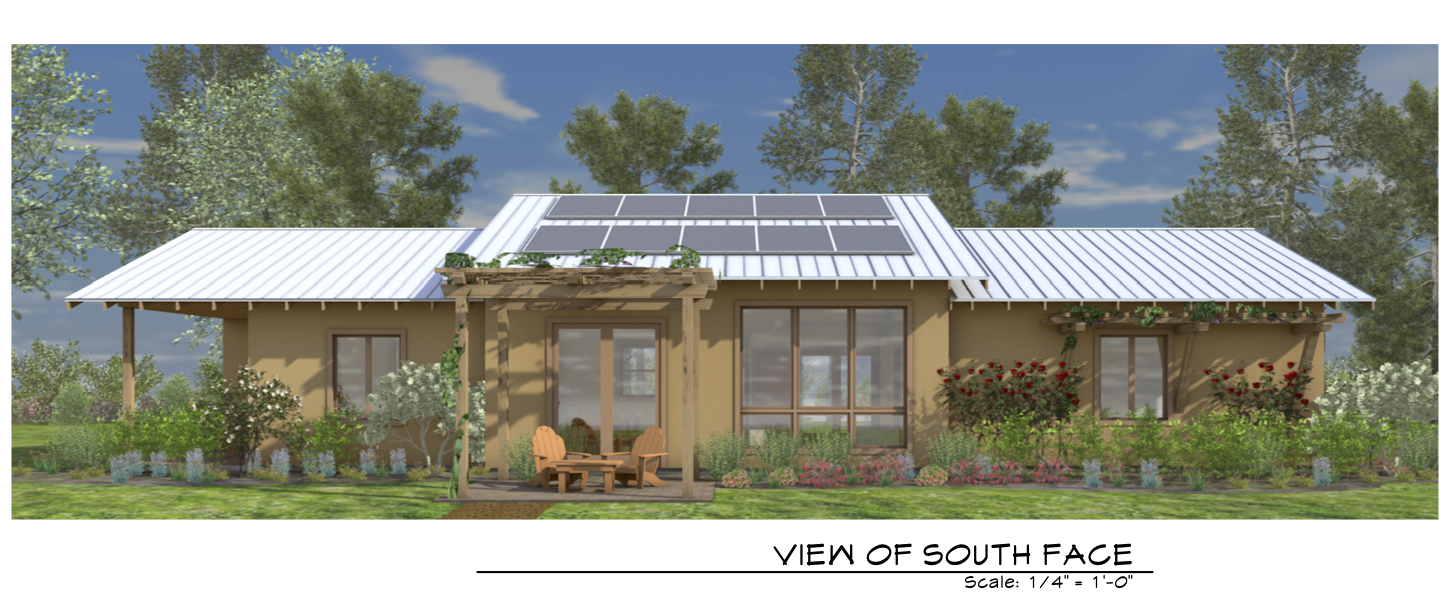 Architectural process
In 2016 a large group of Common Ground Ecovillage members worked extensively with a Raleigh architectural firm to arrive at schematic designs for residences and Common House. This process was enlightening in many ways, but not fully successful in meeting our basic goals. In 2017 there followed a period of internal community rethinking of design basics – both goals and process.
We resumed architectural work in 2018 with architect Jonathan Lucas of Asheville's What on Earth Architecture. We are attracted to Jonathan of a variety of reasons. We like his explicit and systematic process of goal-setting and agreement upfront of any design work proper; also his care with budgets and explicitness about costs, as well as his remarkable frugality; his experience working with communities in the past; and in general his aesthetic, which can mix modernist and traditional elements – a seemingly difficult goal that Common Ground Ecovillage embraced after our first experience with a modernist firm.
You'll see some of Jonathan's designs in the Residences section: very widely-liked schematic designs for prototype residences. The Common House design is posted as of February 2020 as well.
Our process manages interaction with Jonathan through the the Planning, Design, and Development Circle (PDD). All design work has been preceded by careful specifying of functions, goals, and features and sizes of every building and room. These Design Goals then went through the usual consent process, first with PDD, usually with a fair amount of discussion and adjustment in the process, and then to General Circle. Jonathan then produced a "Concept Design" which situated and related all of the spaces functionally. Same consent process again. Jonathan then produced a Schematic Design… same process yet again. At this point we also shared the emerging designs with the larger community. PDD held regular Last Saturday events for this purpose through 2019 and into 2020. Current designs are posted on this site as well as in the entry area of Hart's Nest.
Other pages in this Village Design section
– Residences: Here you will find Schematic Designs for the prototype residential structures currently envisioned.
– Living Options: This page details and illustrates the different living spaces/options currently being planned for, designed to enable and support a variety of different individual, family, and group living situations.
– Common House: Here you will find Schematic Designs for the Common House.
– Village layout: All of the structures must fit on our allocated village site and fit together in a lovely way as well, supportive of convivial community life and in flow with the land as well. Go here to see our current provisional site plan and models.
Further key design-related documents
For more detail, linked here are a further key documents re. design goals:
– Selected Principles and Intentions key to the design process.
– Cooperative Housing for Cooperative Living – a re-conception and celebration of the current Living Options, by Hope Horton.
– General Approach to Accessibility Questions
– General Common Ground Ecovillage Design goals and Considerations. General part of the design programs for residences and Common House.
– Architectural Background This is an old document, prepared initially for our first architectural consultation in 2017. It's ambitious, too. But we are still trying to live up to it!