The Common House will be at the center of the community – physically, socially, and functionally as well. It will hum with constant activity in several quite different very adaptable spaces, as members gather for all manner of social activities, suite-dwellers cook meals in the kitchen, together or side-by-side, while groups of friends or teenagers hang out at the big family-style kitchen table, work on laptops or argue about cabbages and kings in the cafe, small kids play in a flexible space just off the lobby, while some of us just do our laundry and read the paper in the laundry area. One side will be a quieter wing including two guest rooms – also usable for meetings or study when not in use by guests –  while on the other side of the building will be our large multi-use space, meant for everything from regular large-group dining to full community meetings, opening out onto a large screened porch in turn, with an outdoor kitchen just past its edge as well.
Greener Together
Like all of our structures, the Common House will be built to high performance standards. We expect it to be well insulated, for example, and carefully positioned to make use of southern sun for heating and lighting without overheating in the summer. On the roof will be photovoltaics (solar cells) that help power the building. Appliances will be efficient and require minimal water. The building will open readily to breezes and offer some permeable boundaries between inside and out. Again, specific materials are not yet determined, but we hope to make major use of on-site or local wood and clay and draw on local alternative-building experts.
But here is an even more wonderful thing: the most significant "green" feature of the Common House is not actually a feature of the building per se, but rather of its function in the larger community. By offering a large kitchen, meeting spaces, guest rooms, and laundry facilities, the Common House will enable individual and family dwellings to be much smaller than most of us would expect or require otherwise. With such an inviting and functional Common House, every individual dwelling will not need a large kitchen or dining area, or guest rooms, or even its own laundry space (though that can still be an option). All of this can be provided better and at much less total cost in a single, well-equipped, high-quality shared facility. Total cost is therefore greatly reduced, and so too is the ecological impact or "footprint" (literally too) of the village as a whole.
That's the key thing: we are looking at the whole. "Green" is not necessarily a matter of living the same way we do now except with lower-impact appliances and the like. Something more radical is afoot here. We're "greener together". The aim is to design the whole village differently to enable a mutually-supportive and resilient way of life.
2020 Schematic Design
As noted in the Overview, the Planning and Development Circle worked extensively through 2019 and into 2020 with Jonathan Lucas to develop a schematic design for the Common House – the hardest design work we have yet done. Here is the floor plan then developed (zoom in to see it better in detail):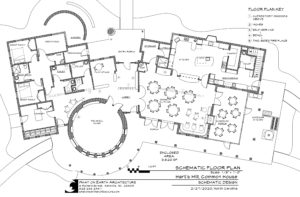 This and all drawings on this page are by Jonathan Lucas, Architect, of What on Earth Architecture in Asheville.
Here are some things to note. First and most notable may be "the Wheelhouse", the big circular structure on the southwest side. This was envisi0ned as a story-and-a half tower (see images below) enclosing a lofty round space of about 20+ feet in diameter, with a multitude of different uses, from yoga sessions to Circle meetings. In the multi-use space across the lobby, tables may be set up as shown for meals, but they can also be stowed and the space filled with up to 65 chairs, in many different configurations. Or the floor may be cleared for square or salsa dancers, or artists painting huge posters on the floor, or… who knows? Note the cafe in the SE corner, with a double-sided fireplace that also could warm porch-users (where the tables can be moved or removed too) on cool spring nights or blustery autumn days. The kitchen is meant to be ample and inviting and is meant to allow the ready preparation of meals for the whole community as needed but also to offer separate stations for individuals or families cooking on their own. On the kitchen's west side, as mentioned above, we envision a family-style kitchen table that can serve for everything from food prep to small crafts or kids' homework area. The stairs on the NE corner descend to a partial basement under the kitchen that will serve as a root cellar, for further storage, and also house water heater and other utilities.
Here are Jonathan's presentations of how the Common House could look from each side: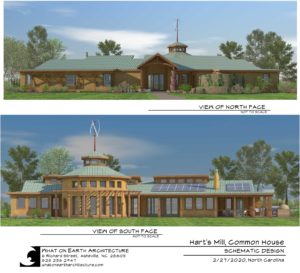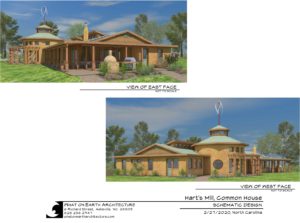 Also to note: the spiral structure on top of the round tower on the left-hand side is a vertical axis windmill – a sculptural but moving and functional element, merrily spinning away as you approach the building, flashing a bit in the sun and powering some of the building's lights inside when needed.
2022 Update
P&D is currently revisiting Common House planning for a variety of reasons: among them that we are several years farther into community development since the current plan was consolidated, with both some tighter constraints and also new opportunities; that our shifting and expanding membership as well as the press of events such as the pandemic have changed some of our thinking about what the Common House can or must do (or not do); and also that certain issues with the current design, left unresolved in 2020, now need some resolution. Some very appealing new ideas and revisions are in the works!! 
Look for updates soon on this site as the work proceeds.