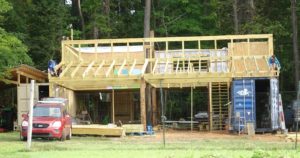 You want to contribute to something positive in the world? Show up at Common Ground Ecovillage. The October Calendar lists a dazzling variety of ways to engage:
Develop knowledge and intimacy with the land through our *NEW* Simpler Living: Earth Skills Sundays with Gumby Montomery. This month we'll meet medicinal and edible plants
Get to know each other through a Meet and Greet Zoom evening and a Halloween Harvest Festival on the land
Build a barn–hammer, saw, paint, run errands, bring cookies…there's a place for you
Wrap your head and heart around cooperative culture and governance skills at our semi-annual training via Zoom
Tend the crops and mow the fields
Come to Circle meetings to co-create our village, help with marketing and fundraising, plan community gatherings, and much more
Click this link and read all about it: http://www.commonground.eco/opulent-october-calendar-2020
Common Ground welcomes you. See you in October!