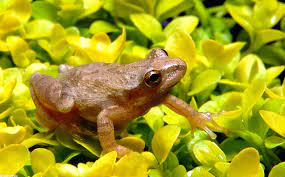 Dear friends,
Walk anywhere on the land near water these days and you'll be serenaded by Spring Peepers. They are tiny but, oh my, they sound a stupendous chorus! And daffodils, crocuses, red maple magenta blossoms, spring beauty–they are all popping up FAST as late Winter tussels with Spring. The season is calling us to be awake and aware, for all that lies dormant will soon emerge.
At Common Ground Ecovillage, seeds we planted long ago (and have carefully tended and amply watered) are sprouting as our village and farm rapidly attract those who will help bring all to fruition. We hope you'll pour over this Calendar and find what inspires you to show up–on the land and/or on Zoom–and add your unique voice, talents, and rhythms to this Ecovillage chorus.
We are small, yet we can make a mighty noise in a world crying for justice, harmony and right relationship with each other and the land.
Come together now,
Common Ground Ecovillage
https://www.commonground.eco/wp-content/uploads/2022/02/Melodious-March-2022-Calendar-1.pdf